AUGUST 11, 2015 by JOE BATTAGLIA
400 published scientific papers have proven the old adage that "music is medicine." Neurochemical benefits of music can improve the body's immune system, reduce anxiety levels and help regulate mood in ways that drugs have difficulty competing.
"We've found compelling evidence that musical interventions can play a health care role in settings ranging from operating rooms to family clinics," says Prof. Levitin of McGill University's Psychology Department. "But even more importantly, we were able to document the neurochemical mechanisms by which music has an effect in four domains: management of mood, stress, immunity and as an aid to social bonding."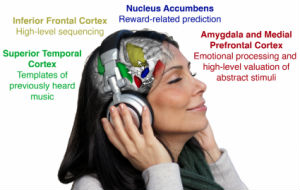 The review appearing in in Trends in Cognitive Science, was prompted by the growing number of studies addressing evidence-based music interventions (as opposed to music therapy, which is something else). Prior to this review, no one had really taken the time to look at what all the new evidence was suggesting.

Indeed, music is frequently used for self-medicating purposes; many of us listen to music as a way to calm ourselves or give us a boost. And we do it as frequently — if not more so — than with coffee or alcohol.
Opoids are also responsible for music's myriad effects on mood, pain and well-being, giving clues to how we can harness its benefits even how it affects our aging.
Like other pleasurable experiences, there are two components to enjoying music: anticipation of hearing your favourite song, and then actually hearing it. The brain signalling chemical dopamine, which is linked to reward, is involved in both phases. But neuroscientists have wondered for decades whether there was more to it — what gives music its power to induce euphoria?
​
The brain's natural opioids could be key.
Read the full article here.