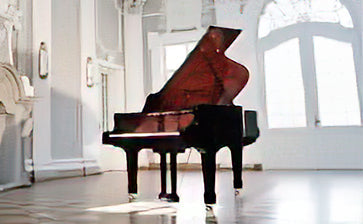 Situated just across the water from Finland and Norway, the tiny country of Estonia has been building pianos by hand since 1893. During the first half of the 20th century Ernest Hiis, their main engineer, made wonderful headway and even managed to stay in business under the USSR occupation by becoming the "official concert grand piano" of the regime.  After Hiis' death in 1964, the consistency and quality of the piano suffered. Materials available to other makers were not available behind the "iron curtain" and without clear leadership, the details of the Hiis designs were often not in the pianos. 
Then, in 1991, the country gained its independence in a spectacular way, by singing in a mass choir in the Capital City of Tallinn, without firing a shot. This "Singing Revolution" immediately gave access to finer materials, and with the investment of Dr. Indrek Laul and his family, who are professional musicians, the Estonia piano has improved so quickly that we are amazed by the product today. 
Today's Estonia shares materials with Bösendorfer, Hamburg built Steinways, Bechstein, and others. Further, under the watchful eye of Dr. Indrek Laul, a Juilliard graduate and concert pianist himself, the designs of the pianos have been improved and details attended to - this piano is now a world class choice and enjoyed by professional pianists, colleges, universities, and avid amateurs all over the world.